Description of the dog harness

With experience comes wisdom. With wisdom comes a better product.
You probably want to purchase a dog harness which you can use for various activities.
This ultimate all-weather, multi-tasking, better control dog harness can be used for over 9 activities and in any outdoor weather condition.
Take control of your dog from the moment you put this harness on.
It is easy to put on and enjoy walking or training instantly.

For your convenience we have made an ergonomic, comfortable upper handle grip.
There are 2 attachment points for the leash:

1. A traditional floating ring on the handle - upper area
2. A front chest strap ring attachment.

With the second option YOU are in control of your dog for the following reasons:
By attaching the leash to the front chest strap you gain more control over your dog. When your dog pulls on the leash, he will be guided back towards you, naturally and gently discouraging him from pulling.

The leash attachment on the chest prevents pressure over your dog's throat and neck, which is especially important for small breeds that can be susceptible to tracheal damage.
What do you want to do today with your dog? Walk? Track? Jog? Pull? You can do it all with one harness!!!

Intended use for this dog harness
Walking your dog
Tracking with your dog
Pulling activities
Training your dog
Off leash training
Obedience training
Identification harness
Patrolling
Jogging with your dog
Key features of this dog harness
Extra durable nylon material body and straps
2 inches wide (50 mm) strong quick release easy buckle and straps
2 attachment points for leash - front and handle
Removable under belly strap - 1 1/2 inches (40 mm) wide
Side D-rings for pulling activity
Easy upper grip short control handle
Identification patch ability on both sides with Velcro (one patch set included for FREE with purchase)
Adjustable girth and under belly straps
Super light weight
Extreme comfort
How to measure your dog for this harness:

Measure around the widest part of the rib cage of your dog an inch or two back from the "armpits".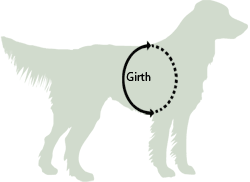 Dog harness available sizes:

Extra Small - 20-23 inches (50-60 cm)
Small - 22-27 inches (55-68 cm)
Medium - 27-35 inches (69-89 cm)
Large - 32-42 inches (80-109 cm)
Extra large - 34-47 inches (85-120 cm)

Have a look at the harness with under belly strap removed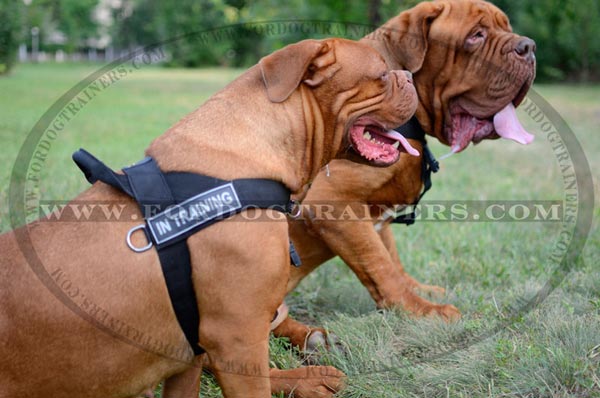 Check out how great this harness looks on German Shepherd dog