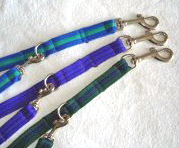 The leads are made from Softex, a padded webbing which is strong but gentle on the hands. Mekuti Double-Ended Leads are very comfortable to hold even in cold and wet weather.
The trigger hooks are two different sizes - a smaller one to attach to the side of the harness (or even a head halter) and a larger one to attach to the back of the harness (or collar). The lead width is 3/4".
For heavier set and stronger dogs, I would recommend ordering the lead with two large trigger hooks which are available in 3/4" or 1" widths.
The lead can also be used to attach to a single point and adjusts into a variety of lengths to allow you a greater degree of control or more freedom for your dog.

WHAT LENGTH DO I NEED ?
2.0m - For a general purpose lead
2.5m - For smaller dogs (to prevent you from stooping)
3.0m - For use as a long-line or training lead